American Women Artists
"A Tradition of Excellence"
Lifetime, Signature & Master Members Show & Sale 2019
American Women Artists Lifetime Signature and Master Members Show and Sale 2019
"A Tradition of Excellence" Oct. 21- Dec. 7th, 2019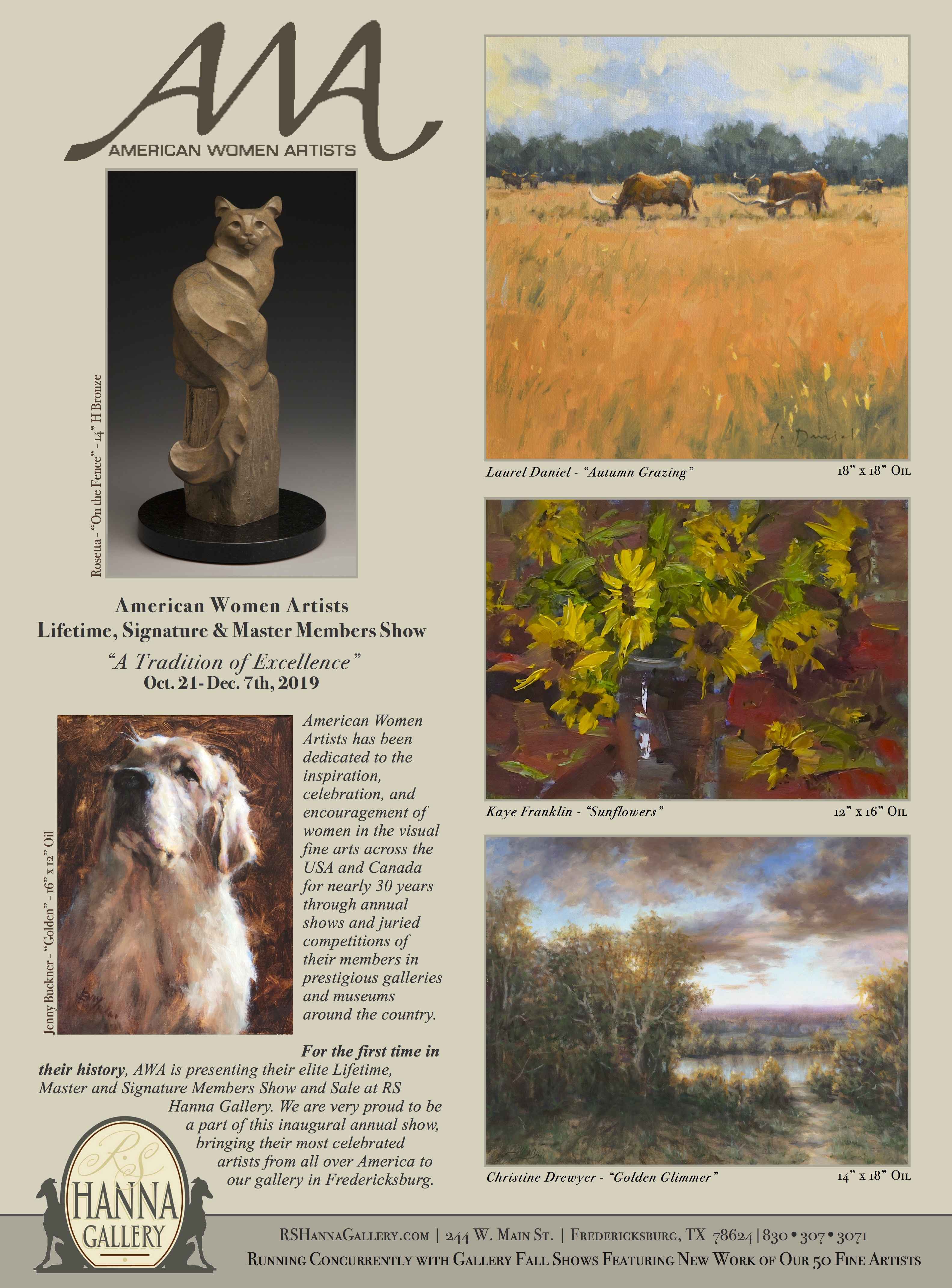 American Women Artists has been dedicated to the inspiration, celebration, and encouragement of women in the visual Fine Arts across the USA and Canada for nearly 30 years through annual shows and juried competitions of their members in prestigious galleries and museums around the country.
For the first time in their history, AWA is presenting their elite Lifetime, Master and Signature Members Invitational at RS Hanna Gallery. We are very proud to be a part of this inaugural annual show, bringing their most celebrated artists from from all over the country to Texas.
We are proud to present this wonderful group of artists to RS Hanna Gallery and delighted they have chosen us to do this exciting exhibition and sale! Each artist image will take you to their page for further information about their work. We look forward to meeting the artists in person and celebrating women in the arts and their tradition of excellence that has touched so many in their authenticity and singular beauty over the years.
An opening show artist catered reception will be held on Friday November 1st from 5 to 8 p.m. to meet and greet the artists with a special treat in store for attendees, as our gallery artist and Master Signature member of AWA , Pam Ingalls, will bring a professional photographer and videographer to shoot references for her upcoming show "Facing Fredericksburg" that will open in March 2020. All chosen to be in the show will recieve a complimentary fine art giclee of their portrait...see events section of RS Hanna Gallery for more information )
October 30 and 31st RS Hanna will open the first of our master artists workshop series. Our gallery artist, and Master Signature member of the AWA, Denise LaRue Mahlke, will have a 2 day workshop on "Design and Value" emphasizing the fine techniques and exercises that are key to a sharper result en plein air and with reference material in the studio. From 9 to 4 each day with more information on the events page as well at the gallery.