" Gracie Love is Blind". Book Signing by author Patsy Swendson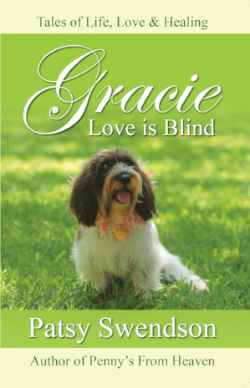 Author Patsy Swendson will be present at RS Hanna Gallery, 244 West Main in Fredericksburg, Texas December 7th from 2:00 to 6:30 p.m, signing her new book "Gracie Love is Blind", an inspirational book about her therapy dog Gracie who served Wounded Warriors in San Antonio, Texas, providing aid to the soldiers diagnosed with severe depression, traumatic stress disorder and brain injuries.
Swendson's passion is Pet Assisted Solution Focused Therapy. Gracie is the narration of the connection, deeper than language, that connects Gracie with those most in need of relief, of her accepting presence and the effect it has on those around that acceptance. "Gracie walked in with angels on her shoulders" as a young man severely burned with legs amputated at the knees said in her book.
Ms. Swendson was on "High Alert" with Soldiers Angels, a national non profit whose mission is to provide immediate aid to those arriving at Brooke Army Medical Center from Iraq/Afghanistan.
Actress Betty White has endorsed Gracie Love is Blind, as well as 4 star general Tommy Franks. For 20 years, Swendson produced and hosted award-wining television pet documentaries, as well as her live daily cooking show, and now we are privileged to introduce Ms. Swendson and GRACIE LOVE IS BLIND to RS Hanna Gallery.
We invite you to attend Ms. Swendson's book signing this Christmas art walk and support this beautiful, compassionate story of what really matters.